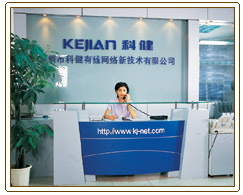 Shenzhen Kejian Cable Network New Technology Co., Ltd is belonging to China Kejian Corp. Ltd., which is one of the most famous high-Tech enterprises in China. We following years of extensive research product and sell. Because of our fineness outstanding achievement and favorable developed, we get a lot of affirm and recognition from parent company. In May, 2000 we come into existence Kejian Cable Network New Technology Co., Ltd. Our company have topping office and workshop, advanced equipment, eminent technology and manager. We also build up a complete system of quality control, and gain the certificate about ISO9001: 2000.

Be the leading professional manufacturer of hybrid modules for CATV in China. We have over nine years experience of research and produce and we get the nation patent. We combine top-grade of factories, facilities and production experts, service. Guaranteeing put standing quality for all our products. After hybrid and CATV GaAs power double Integrated Circuit, in 2002 we developed new product----optical receive and CATV Integrated Circuit(chip die). Their function and norm even over and above abroad products. Our companies try hard to adept to the Integrated Circuit market and attach importance to quality. We not only leading the home market but also open up the market of south---East Asia.
Our company hold the market, set foot in fiber product from 2010,developed and produced a lot of fiber couplers. After our fiber products put into the market, we have accepted many praises from our customers.
The main goal at shenzhen kejian cable network is to transform our high-tech expertise and know-how of advanced technologies into innovative products for the world.